Eluna Auction #25121 Wine Experience for Two at Corky, Jerusalem
12/19/2018 5:37:46 PM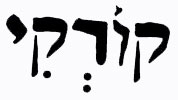 Wine and Dairy Snacks for Two at Corky Wine Experience
Who remembers the bad old days when kosher wine was sticky sweet kiddish wine?
How things have changed.

Israel has become one of the major players in the kosher wine world. Corky Wine Experience has a terrific selection of kosher wines produced in Israel and wines of Israel. The difference is in the grape. Taste wines made from nearly extinct indigenous grapes used in wine making thousands of years ago. These are usually only available at high end restaurants or specialty shops, and of course at Corky.

At Corky wine bar you will be guided by experts. Taste a variety of wines paired with light dairy dishes. Corky offers wine tasting, workshops, and an education about great wines.
Corky Wine Experience
18 Azza St., Jerusalem
Tel: 02-940 8038
Kashrut: Rabbanut Yerushalayim


Bid on a NIS 200 voucher.
| | |
| --- | --- |
| First Bid | |
| Current Bid | |
| High Bidder | |
| Bid Increment | |
| Auction End Date | |
| Remaining Time | |
| | |
Copyright eLuna.com, All rights reserved.