Eluna Auction #25250 Dinner for Two at Cafe Neto, Petach Tikva
2/19/2019 1:23:03 PM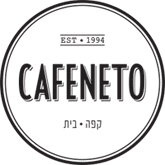 "This great chain of coffee shops deserves a kosher branch," said a couple of young dati fellas, and so the kosher branch of Cafe Neto in Petach Tikva was born. The cafe was expanded, and invested and now it is a spacious and comfortable place to enjoy light and delicious dairy foods.

There is indoor and outdoor seating on the deck overlooking the garden. There is comfortable space between tables and the restaurant has plenty of room for groups or couples. There are now several kosher restaurants in the chain, but this is certainly one of the nicest restaurants.

Enjoy soups, sandwiches, toastim, breakfasts and more at Cafe Neto. The cafe has wireless Internet access so bring your laptop and work while you dine. This is a great cafe experience.
More about this restaurant

Cafe Neto
18 Hasivim St., Petach Tikva
Tel. 03-923 3131
Kashrut: Rabbanut Petach Tikva
Bid on a NIS 175 voucher at Cafe Neto Petah Tikva Restaurant.
| | |
| --- | --- |
| First Bid | |
| Current Bid | |
| High Bidder | |
| Bid Increment | |
| Auction End Date | |
| Remaining Time | |
| | |