Eluna Auction #26371 Dinner for Two at Etnika, Herzlia Pituach
2/22/2019 4:05:32 AM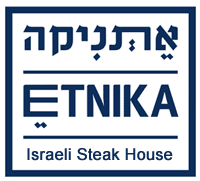 Dinner for two at Etnika, Herzlia Pituach

Etnika, an ethnic family restaurant in the Herzlia technology park, is a meat eaters delight. Choose from entrecote steak served in chimichuri sauce, prime rib entrecote on the bone, or the mixed grill for you and your companion.

Enjoy your meal with one of the delicious wines, beers or other drinks, personally chosen by the owner.
Etnika
7 Shenkar Street, Herzlia Pituach
Tel: 09-951 1177
Kashrut: Rabbanut Herzlia
Bid on a NIS 250 voucher at Etnika Restaurant.
| | |
| --- | --- |
| First Bid | |
| Current Bid | |
| High Bidder | |
| Bid Increment | |
| Auction End Date | |
| Remaining Time | |
| | |