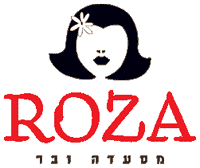 Dinner for two at Roza, German Colony, Jerusalem
Roza, Roza, Roza!
Located in the heart of the German Colony, this is the sister restaurant to ROZA off Jerusalem's Yaffo Street.

Enjoy the ROZA delicious menu with its international flavors. The menu offers Mexican, Italian, and Israeli dishes.
Which is your favorite? You'll be back again and again to try them all.


Click here for more info.


Roza
2 Rachel Imeinu, German Colony, Jerusalem
Tel. 02-563 8000
Kashrut: Rabbanut Yerushalayim