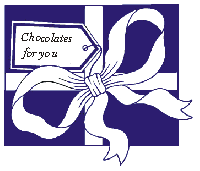 The Chocolate Dreams Company
Chocolate Dreams is a new company founded by American olim offering creative ideas in hand made designer chocolates. These make great gifts, wonderful desserts or curiosity items for your simcha. The Chocolate Dreams Company caters for Bar/Bat mitzvot, Brit Milah, L'chaims, and any type of party.

Chocolate Dreams offers unusual chocolates for all occasions. Have a pizza for dessert? Not a cheese pizza, but a chocolate pizza. Cheese topping is made of white chocolate drizzled over a round dark chocolate pie. Or how about a chocolate covered spoon. Use it to stir a cup of hot milk and make chocolate milk in real time. Here's a special treat: an all chocolate bowl filled with nuts and raisins drizzled with white and dark chocolate.
Prices start at 30NIS and vary according to quantity and size of platter. Two days notice needed on orders. Everything freshly made. Not just a candy but a treat.

The Tu B'Shvat platter of chocolate dipped fruits and nuts includes: Cranberry-Pecan White Chocolate Bark, Fruit and Nut Chocolate Covered Clusters, Stuffed Dates with Almonds, Glazed Kumquats, Dried Pineapple, Dried Apricots, all dipped in chocolate. This is a beautifully presented platter with 55 pieces of chocolate on a gold platter.

You can buy chocolates for your own household, or you can have them sent to someone else as a gift item. Chocolate Dreams Company issues gift certificates where the recipients can select their own chocolate. This is appropriate for business gift giving to employees and office events.
Menu

Crispy Critters
These crispy chocolate covered treates are the "rice" choice.
Crunchy Clusters
A - "maize"-ing chocolate coated delight
Spiders
A tastey tangle of "twigs" enrobed in chocolate.
Chocolate dipped pretzels
Pretzels like you've never experienced before.
Chocolate mint swirls
A swirling symphony with a hint of mint.
Zebras
They're black and white and delicious all over!
Fruit & Nut delights
A munchy mixed-up mishmash of fruits and nuts.
Fruit dips
Dried pineapple, apricots, dates stuffed with almonds.
Kashrut: Rabbanut Modiin, Mehadrin, Parve.
Location: 44 Nachal Tzin, Modiin
Tel: 08-972 9821
Delivery: Modiin, Ramat Modiin, Beit Shemesh, Jerusalem, and anywhere in between. You may pick up your platter in Modiin or delivery fee extra.
This discount coupon is valid till Purim, 2002.