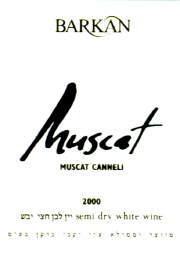 Vineyard: Barkan
Wine: Muscat Canneli 2000
Type: Sweet White

This is a very sweet dessert wine. Its color is so white that it almost looks like water. It is very fragrant and full of fruit. This is a wine that is fun to drink especially with bittersweet chocolates.
The label on this Barkan, Muscat Cannelli is very impressive. It is a white background with a touch of gold and black. The bottle is a heavy, black color.
Dessert wines are often lacking in complexity and balance. They are usually very strong, very heavy and sometimes even syrupy. But they are also very sweet and, therefore, perfectly suited for the Seder table. As dessert wines go, this is one of my favorites.
Rated: 7+

Size:
750 ml
Price per bottle:
37 NIS at Rose Wine, Shuk Kenyon, Agrippas 90, Jerusalem, 02-624-8961
38 NIS at Mendel, 218 Ben-Yehuda St., Tel-Aviv. 03-604 4672
Case:
12 bottles.